| Directors | Issue | Library Personnel |
| --- | --- | --- |
| Ronald D. Cohen | NUMBER 30 | Robert F. Moran, Director |
| James B. Lane | Fall / Winter 1997-98 | Stephen McShane, Archivist |
"Let's Get Ourselves Together"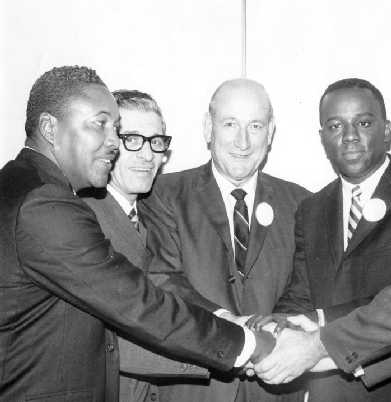 30 Years Ago: Democratic Mayoral Candidate Richard G. Hatcher (right)
with United Steelworkers of America leaders
(left to right) John L. Howard, Peter Calacci and Joseph Germano, October 27, 1967.
---
Together, we shall walk through our valleys of hope; together, we shall climb the steep mountains of opportunity, for we seek a high and beautiful new plateau--a new plateau of economy and efficiency in government; a new plateau of progress in government; a new plateau where every man, Democrat and Republican, rich and poor, Jew and Gentile, black and white, shall live in peace and dignity.
Gary is a rising sun. Together, we shall beat a way; together, we shall turn darkness into light, despair into hope and promise into progress. For God's sake, for Gary's sake--let's get ourselves together.
With these words, Richard Gordon Hatcher became the first African-American mayor of Gary, Indiana, on January 1, 1968. Indeed, he had won election the previous November as one of the first black mayors elected in a major northern industrial city and the first in the State of Indiana. There is no doubt that Richard G. Hatcher's entrance into Gary's mayoralty would serve as a key episode in the history of the Calumet Region and beyond.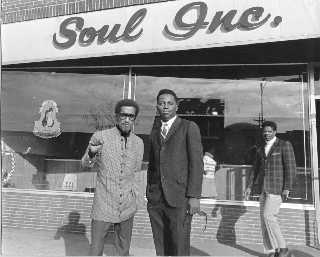 To commemorate the thirtieth anniversary of that historic occasion, the Calumet Regional Archives has listed its collections which deal with Richard G. Hatcher's twenty-year tenure as Gary's mayor. While the Archives lacks the official papers of Richard G. Hatcher at this time, a number of collections provide some information on the Hatcher era. We have listed brief descriptions below. For more information, please contact the Archives at 219-980-6628 and visit our site on the World Wide Web at www.iun.edu/~cra. The Archives would welcome additional collections and materials on this subject. Please contact at the Archives.


Richard G. Hatcher with Sammy Davis, Jr., ca. 1968
---
Richard Hatcher Collection
CRA 086
0.50 Linear Feet

These records trace Richard Hatcher's career as major of Gary since his landmark victory in 1967. Photographs, campaign material, speeches, and inaugural ball programs provide information on Mr. Hatcher's views and activities as the first black mayor of this large Midwest industrial city.
---
Robert Catlin Papers
CRA 152
0.50 Linear Feet

Robert Catlin served as an urban planning consultant to the Hatcher Administration during the 1980's. In that role, he produced numerous articles and reports on city projects, as well as analyzing the planning processes used at that time. His collection contains several of those reports, including the Gary 2000 master plan, and an insightful article entitled, "The Decline and Fall of Gary, Indiana," in the journal Planning, Vol. 54, No. 6, June 1988.
---

Clifford E. Minton Papers
CRA 160
5.00 Linear Feet

Among his many accomplishments, Clifford Minton served as the executive director of the Gary Urban League during a crucial period of civil rights activity. His collection includes correspondence, minutes, reports, speeches, and other materials documenting the work of the Urban League. In addition, his many newspaper commentaries in recent years have included subjects dealing with Gary's history and the Hatcher years.
---
Leonard Dreyfus Papers
CRA 268
0.75 Linear Feet

Len Dreyfus served the Hatcher Administration in a variety of roles, one of which was producing graphic and print materials for campaigns and social programs. His collection contains materials from the Gary Human Relations Commission, the Black National Political Convention of 1972, and the Concentrated Employment Program (CEP) in Gary. In addition, memorabilia from several Hatcher campaigns are preserved in the collection.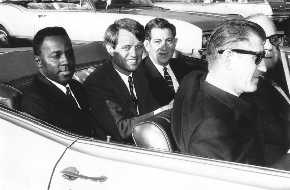 Richard Hatcher with Robert F. Kennedy during his visit to Northwest Indiana, 1968
---
Henry Coleman Papers
CRA 277
0.25 Linear Feet

This collection provides a general record of the political and civic activities of William Henry Coleman from 1967 to 1977. Mr. Coleman managed the 1967 and 1971 mayoral campaigns of Richard Gordon Hatcher. He served as the head of Gary's General Services Administration, 1968-1972, becoming City Controller in 1973. The collection contains newsarticles, several documents relating to the elections, and various files from city offices.
---

Kelsie Heard Papers
CRA 318
0.25 Linear Feet

A member of United Steelworkers of America Local 1066, Kelsie Heard was active in politics in and out of the union hall. Minutes and related materials from the Civil Rights / Black Labor Committee of USWA Local 1066 provide helpful data on the civil rights movement in the union. In addition, several files in this collection offer insight into Gary city elections.
---
Charlene Crowell Papers
CRA 321
3.00 Linear Feet

Serving as a special assistant to Mayor Hatcher, Charlene Crowell produced a number of documents for the mayor. Her papers encompass a substantial series of Richard Gordon Hatcher speeches from the 1970's and 1980's, as well as correspondence and memoranda from the mayor's final term in office. Other files offer information on various city departments, particularly the Gary Sanitary District, along with reports on the Lake Sandy Jo Landfill. Photographs of Mayor Hatcher and city events complement the records (as this Newsletter went to press, Ms. Crowell donated several additional boxes of material to the Archives, which will be processed and added to her collection).
---
Al Boswell Papers
CRA 394
4.75 Linear Feet

Actor / teacher / director / writer Alger Boswell of Gary donated his collection of local theater programs and pamphlets to the Archives in 1996. The materials encompass productions from the Gary Community School Corporation and Indiana University Northwest, as well as community theater groups such as the Gary Music Theater and The Company Players. In addition, the Boswell Papers comprise programs from numerous local organizations and events, including the Miss Gary and Miss Black America pageants, as well as political functions, including several involving Richard G. Hatcher.
---
Additional Reading
Valuable insights on the Richard G. Hatcher era have been gained through some recent interviews with the former mayor. In particular, see Steel Shavings magazine, volumes 21 and 25, available from the Archives. Also, IUN Professor James B. Lane has just written a chapter on Richard G. Hatcher for a forthcoming book, African-American Mayors, to be published in 1998. Finally, the recent video documentary on Gary's history, The Magic City of Steel (available at the IUN Library Circulation Desk and in the Archives), contains some recollections by Richard G. Hatcher of his tenure in the mayor's office.